Types of G

eneral Purpose Shelving Systems
It is easy to assume that every warehouse in South Africa has a similar set of needs when it comes to the types of shelving that are employed in their operations. The truth is that this is not the case. Different types of warehouses need to think of clever ways to maximise their usage of space, thereby maximising their income and minimising costs.
At the end of the day, the average warehouse is simply a massive storage unit, so you can be forgiven for assuming that storage and shelving must be handled in the same way.
There are, in fact, a broad range of available options to warehouse owners and managers, each with their own unique applications, benefits, and drawbacks.
Whether you are looking to invest in bolt-on shelving or corner shelving for your warehouse, here's what you need to know about your available options.
Bolt on Shelving
Bolt-on shelving is a popular option for warehouses across South Africa because they are both straightforward and offer a little extra functionality, particularly where their weight, capacity, and ease of assembly are concerned.
They are ideal for any light-duty storage purpose in warehouses and are manufactured from high-quality steel, which compliments their modern design perfectly.
The big benefit to bolt-on shelving is that it can be easily assembled, disassembled, adjusted, and relocated at a moment's notice.
Their light-duty applications also make bolt-on shelving ideal for use outside of warehouses, such as in offices, storerooms, and garages.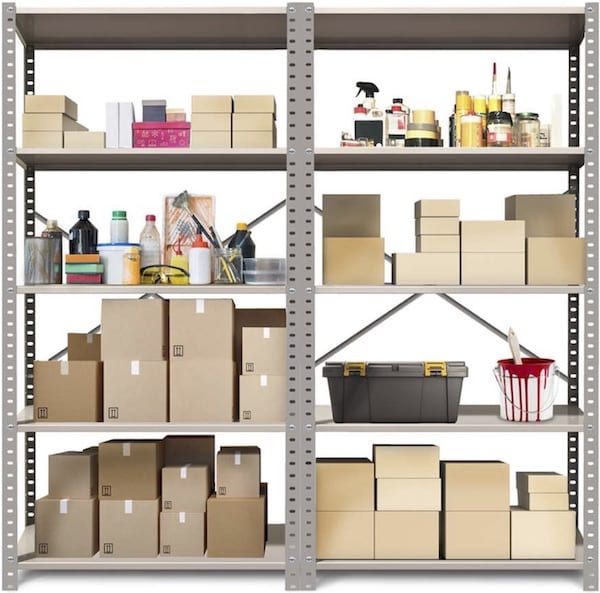 Corner Shelving
Corner shelving helps your warehouse maximise its clever use of space with a solution that aims to take up as little of it as possible.
They offer a fairly innovative approach to warehouse storage because it allows facilities to fully utilise storage space and are particularly useful as a standalone solution.
Corner shelving brings a number of advantages to the warehouse floor, thanks to its increased rigidity and stability, improved storage efficiency, and a durable epoxy-coated finish for additional strength and protection.
They are also available in numerous size options depending on your needs, and their attractive price makes for an economic solution when mixed with their increased storage efficiency.
Advantages:
Increased rigidity / stability of free standing units
Improved storage efficiency
Available in all popular shelf sizes
Highly durable epoxy-coated finish or Pre-galvanised finish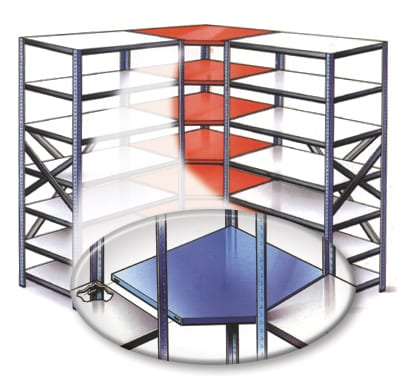 Download a PDF document that with the aid of a diagram indicates how our Shelving Systems are put together using the standard shelving components.
Download a PDF 5 Level Shelving System assembly diagram.
Download a PDF 6 Level Shelving System assembly diagram.
Download a PDF Shelving System Assembly Instructions.
Shelving Models
| | | |
| --- | --- | --- |
| Reference | Tiers | Description |
| B0/12 | 5 | 1800mm H x 305mm D x 920mm W |
| B1/15 | 5 | 1905mm H x 381mm D x 920mm W |
| B2/18 | 5 | 2210mm H x 457mm D x 920mm W |
| B3/24 | 5 | 2390mm H x 610mm D x 920mm W |
ECONORACK BOLT ON SHELVING COMES WITH EASY DIY ASSEMBLY
From Office to Warehouse
We Have The Storage Solution For You